Classroom Renovation Project
Look at what we did
Nyeusi is happy to share with you our on-going project which is part of our purpose "relieving and prevention of suffering and poverty" and is aligned with our vision Nyeungana, specifically in line with the excerpt "…A tomorrow where we all feel empowered to help one another … whilst pushing each other to new heights…".
Journey so far
June 2021 – A member of our trustees visited the only primary school in Ogunmakin. It was reported to us that the buildings were dilapidated with no toilets, no water, no windows or roofing, no electricity and no security. The class capacity is 80 children per class with one teacher. A member of staff also expressed concern for the safety of the children at the end of school each day, having the children walk from school home over a narrow major road with speeding cars.
August 2021 – We paid another visit to the school with engineers and laborers to gather an official report on areas that need renovation and give an estimate cost for the renovation. In September 2021, we reached out to a Registered Charity in Nigeria to work in partnership with them to carry out the works required via our sponsorship. Below are the findings carried out by the Charity Organisation. Once the field work was completed, a cost estimate was also provided and a signed MOU agreement was completed between both parties. On the 25th of Nov, the Charity Organisation terminated the contract before the commencement of the project.
Drone Image of the site as presented by the Charity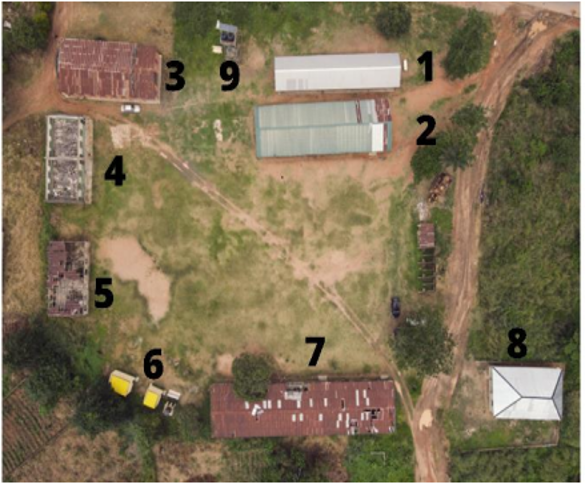 Unpainted newly built classroom
Classroom block, require partial change of roofing, classroom floors and painting
A church
Abandoned classroom
Abandoned classroom
New toilet but no water system
Classroom blocks in use, require total remodelling
Private residential apartment
Old & abandoned borehole
School needs that were identified
A dysfunctional solar powered borehole with a broken solar pump
Dilapidated buildings
Damaged roofing
Perimeter fencing
Provision of books and library
Furnitures (more desk and chairs)
Equipped Computer room
Learning outcomes and
improvement Intervention
In Dec 2021, Nyeusi approached Beam Builders to help realise the dream of renovating the school and giving the children a better learning environment. On the 21st December, Nyeusi officially finalised the agreement and work commenced immediately after acquiring approval from the Education Authority.
Below are works completed so far. 4 Bourchier House
110 Oakfield Road
CROYDON
CR0 2GQ
Tel: 020 3137 5606
© NYEUSI ® 2023 | All rights reserved. | REGISTERED CHARITY NUMBER 1182994 | Privacy Policy | Design: ATOMIC CONCEPTS